Featured Artist: Carlos Jimenez
CD Title: Thoughts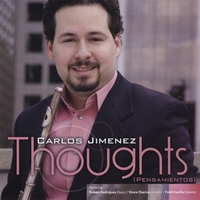 Year: 2008
Record Label: CJ Martinete Music Co. - BMI
Style: Smooth Jazz
Musicians: Carlos Jimenez (Flute), Ruben Rodriguez (Bass), Vince Cherico (Drums), Fidel Cuellar (Piano)
Review: Carlos Jimenez is the next generation of great Puerto Rican flute players, following in the steps of Dave Valentin and Nestor Torres.
Thoughts is Carlos third album. The second one, El Flautista (The Flutist), had more of a Latin Jazz flavor. In contrast most of the music on Thoughts has a modern, smooth Jazz feeling to it.
The musicians on this album are different too. With Ruben Rodriguez, an experienced Salsa and Latin Jazz Bassist, Vince Cherico, who played with the likes of Tito Puente, Ray Barreto and Patato Valdes, on Drums and Colombian pianist Fidel Cuellar. A quartet format more suitable for the music on this CD.
This is a CD full of optimism; just take a look at the titles, Don't Worry, Storm of Love and Life is Great. But you can also hear that optimism in the upbeat, funky sounds of the music. The repetitive melody lines in some tracks like Bluedo, makes them more accessible for non Jazz listeners.
The title track Thoughts feels like a Tango and has some of the most sensitive and brilliant playing on the album. The Latin feeling comes out on pieces like No te apures (Don't Worry) and For You and Me, where Carlos seems more confident showing his improvisational skills with more flowing effortless solos.
Even though you can hear some influence of Dave Valentin in Carlos music, he is quickly developing his own voice. Carlos has a nice, clear tone and excellent phrasing. Listen to the solos on Carlitos my son, Don't Worry and Swift. Fidel Cuellar also contributes some delightful solos on I see you smile and For you and me.
One of my favorites is Storm of Love, on this track every one has the opportunity to showcase their talents, with Ruben taking the first solo on Bass, followed by beautiful Carlos and Fidel solos, and complemented with an excellent work on drums by Vince Cherico.
We will be waiting for next step in the evolution of this excellent Jazz musician.
Tracks: Carlitos My Son, Bluedo, No Te Apures ( Don't Worry), I See Your Smile, Swift, Storm Of Love, For You & Me, Thoughts, Look At The Sky, Life Is Great, Yours For Sure
Artist's Website: http://www.carlosjimenez.net/home.html
Listen or Buy:
Reviewed by: Wilbert Sostre