Featured Artist: Brian McCree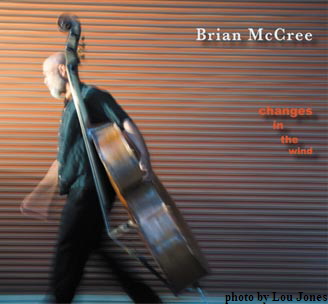 CD Title: Changes in the Wind
Year: 2009
Record Label: Accurate
Style: Various Jazz Styles
Musicians: Brian McCree (bass), Bill Lowe (bass trombone), Pete Moutis (drums), Joel LaRue Smith (piano), Salim Washington (tenor sax, flute and oboe), Ron Murphy (vocals)
Review: Changes in the Wind is the first album as a leader for Boston Jazz veteran Brian McCree. This is an album full of swinging and soulful music. The musicians on Changes in the Wind are, Bill Lowe on bass trombone, Pete Moutis on drums, Joel LaRue Smith on piano, Salim Washington on tenor sax, flute and oboe, Ron Murphy on vocals and of course Brian McCree on bass.
The album starts with a very nice version of Nature Boy. The beautiful oboe solos played by Salim Washington gives this tune an exotic, Arabic feeling and the bass trombone match perfectly with Ron Murphy deep, bass voice. LaRue piano playing is subtle and classy, all this supported by the fantastic bass of Brian McCree.
Almost everyone in the band have an original composition on this album. Soliloquy is a Brian McCree original and the melodies and piano playing reminds me at times of pianist Bob James.
On You can Fly, the melodies, chord progressions and even Washington tone on sax are reminiscent of John Coltrane. Excellent solos by Washington and LaRue. Time Out for Love is a wonderful ballad and like the title suggest, a perfect tune for a romantic evening.
Everyone swings on the next tune, Lecuona's The Breeze and I. Instinctive and courageous solos on tenor sax by Salim Washington. Smith and McCree keeps up energy with some amazing playing of their own. The Coltrane influence can be heard on this tune in the melodies and sax solos.
Blessings from Oshun starts with a classical intro and then breaks into another swinging tune with Coltrane touches. Wake up Dreamer, a Bill Lowe composition, brings a Brasil feel to the CD with nice Bossa Nova rhythms. Suggestive, funny lyrics and a wonderful interpretation by Ron Murphy on his own composition, Cookie ends up the album.
A diverse, deep and interesting first Album for these talented musicians.
Tracks: Nature Boy, Soliloquy, You Can Fly, Time Out for Love, The Breeze and I, Blessings from Oshun, Wake up Dreamer, Cookie
Record Label Website: http://www.accuraterecords.com/
Artist's Website: http://www.brianmccree.com/
Listen or Buy:
Reviewed by: Wilbert Sostre